Recently, stats have shown that there are a Billion people on Facebook. 543 million people are using Facebook products on mobile devices. If you have a business in Atlanta, Georgia (Population 432,437) and you put up a simple billboard you are missing out on the additional 999,567,563 people on Facebook.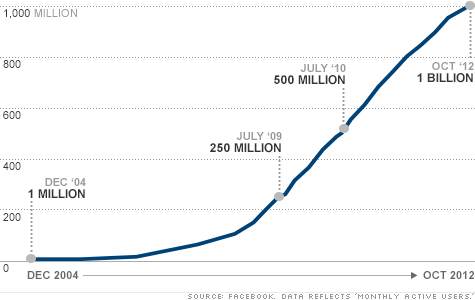 This is why we ask our customers "What social media platform do you use?" You can connect not only to the girl next door, but the lawyer in New York, the soccer mom in St. Louis, or the surfer in California.
I use my Facebook to keep in contact with friends and family members around the nation. I also use it to see what new products my favorite companies are coming out with. I use twitter to see what my favorite celebrities are doing and update myself on news and sports. I use LinkedIn to keep in contact with old co-workers and generate new connections within my market.
You may ask "How do I do that?"
That's why Mid-West Digital Marketing is here. We can help you manage your Facebook page, manage how many people are visiting your page and sharing your information. This is why social media is so important to businesses. This is how people communicate "now-a-days".
Not to mention, this is just Facebook. These statistics do not including Twitter, LinkedIn, Tumblr, MySpace, Pinterest, and many more. On Twitter alone there are 176 million people that are tweeting. In one day there are 400 million tweets. How are you getting your message across? If you are not using social media you are missing out.
We make that job simple for you. We get your message across. Not just to the general population but to the billions of users on Facebook.